MANUFACTURE OF AUBUSSON TAPESTRIES
Ets ANDRAUD Père et Fils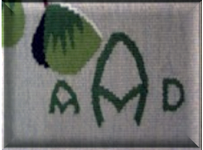 Our workshop has ceased trading after a century of tradition, but it remains :
Some tapestries in stock available at very promotional conditions

The ability to custom manufacture a wide choice of models
It is therefore an exceptional opportunity to acquire at low prices a tapestry woven in this workshop,
which has always worn to the top the colors of AUBUSSON. (Download video of the workshop)
10 rue Roseleur - 23200 AUBUSSON – FRANCE
Tel : +33 5 55 66 32 61 - Mobile : +33 6 82 59 17 50
E-mail : clic here
An authentic Aubusson tapestry is woven only by hand, following the original Aubusson traditional methods, on a horizontal heddle loom. The weaver works from the back, guided by the model slid under the wrap.
Every contemporary tapestry has the name of the cartoon artist and the trademark of the weaving shop (ours is A AD) woven into the front.
The contemporary design tapestries are limited to 8 transpositions numbered from 1/6 to 6/6, in addition to 2 artists proofs (EA1 and EA2). This number is also woven into the tapestry.
A «bolduc» is sewn on the back of the tapestry, bearing the title and the size of the work, the artist's name, his signature, as well as the name of the workshop.